The Risk Assessment Toolkit
Modern business continuity standards (such as BS-25999 and ISO 22301) recommend that every business continuity program includes the creation of a Business Impact Analysis and Risk Register so that you can understand and control your risks.
The Risk Assessment Toolkit is an interactive software tool that makes it easy to develop these key reports for your organization. It will help you determine your most important risks, identify critical activities, and determine where time, effort and money should be spent on business continuity planning and risk mitigation.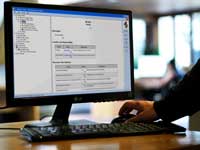 © Image under a free licence by PlaceIt
With the Risk Assessment Toolkit you can:
Enter your organization's structure, activities, resources, and locations.
Pick from a checklist of threats (or add your own) and identify the effect of these on activities and resources.
Specify key properties such as the RTO, RPO and MTPD for each activity.
Check the information you have entered for completeness and consistency.
Create a Risk Register and Business Impact Analysis to assess your risks.
View and analyze recovery timelines to understand how any particular incident will impact your organization.
Modify values and immediately see the effects on costs and timelines.
Use all of the above to determine your key threats, critical activities, planning priorities and budgets.
The cost of the toolkit is , which includes 30 days of email and telephone support to get you started. It will rapidly pay for itself in terms of the time and effort saved when compiling or updating reports. Discounts are available if multiple copies are purchased at the same time. See purchasing information for more details.
Installed on your PC, and with its explorer-style interface and automatic recalculation, it will simplify the way you create and maintain your Business Impact Analysis, Risk Register, and Risk Assessments.